NYC Weather: Sunday snowstorm could bring several more inches to the City, parts of the Tri-State – WABC-TV
NEW YORK (WABC) — Snow is falling in New York City and other parts of the Tri-State and a winter storm warning remains in effect.
ALERT: Winter Storm Warning New York City, Long Island, and parts of the Tri-State area
Sunday will be breezy with snow at varying rates, tapering off by late in the afternoon.
The heaviest snowfall is expected between 11:00 a.m. and 2:00 p.m.
Untreated roads will be snow-packed and slippery as three to six inches of snow accumulates for most areas, but six to 10 inches are possible over eastern Long Island which will be closer to the track of the storm.
Expect one to three inches well north and west of the city, as those areas will be far removed from much of the moisture with this storm.
WATCH: Snow Stream live brings you live streaming coverage and updates on the storm
South Jersey should also expect less snow because of milder temperatures allowing rain to mix.
And keep those shovels handy next week. We may have another shot at snow or rain on Tuesday ushering in some bitterly cold Arctic air.

RELATED: "Rising Risk" docuseries explores how those rising sea levels will play out in the lower Manhattan of the late 21st century. Watch now on our CTV apps for Fire, Roku, Apple TV and Android TV
MORE ACCUWEATHER RESOURCES
Check the latest alerts and advisories for the New York area from the National Weather Service
Check AccuTrack Radar
For weather updates wherever you go, please download the AccuWeather app.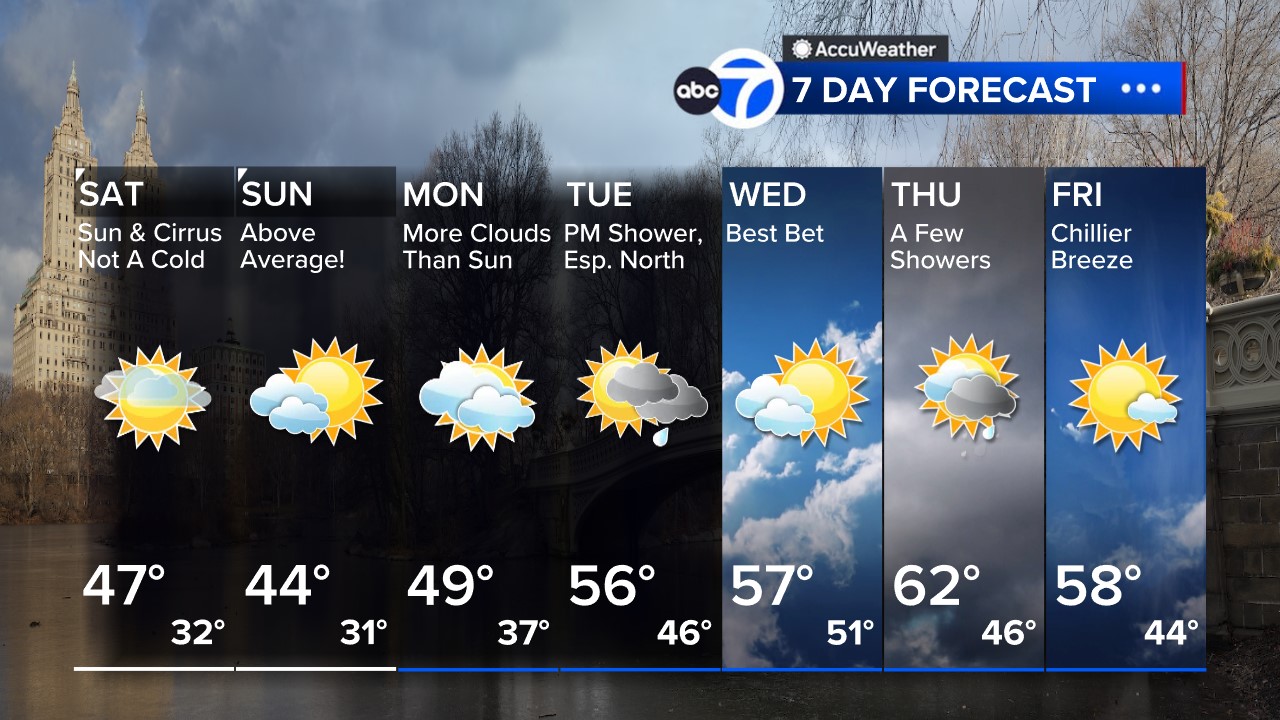 Copyright © 2021 WABC-TV. All Rights Reserved.