Uh oh: Bojan Bogdanovic, Jazz send strong message to rest of league with 11th straight win – KSL.com
SALT LAKE CITY — Donovan Mitchell, sitting out Friday's game while in the league's concussion protocol, tweeted something during the third quarter that sounded awfully like a warning to the rest of the NBA.
"Uh oh Bojan!!!" Mitchell said, with a few eye emojis added in.
As if the league needed yet another reason to fear the Jazz.
Utah won its 11th straight game with a 120-101 blowout victory over Dallas at Vivint Arena Friday. Ten of the 11 victories have come by double digits.
According to Cleaning the Glass, which removes garbage time and heaves, Utah has the league's best net rating, the second best defense, and the third best offense; and the Jazz are No. 1 in everything by a country mile during the long winning streak — a stretch that now accounts for over half the season.
All the stats say the Jazz are currently the best team in the league, and the eye test confirmed that on Friday.
Utah had a 25-point lead after the end of the first quarter by virtue of hitting eight threes in the period and holding Dallas to just 3-of-5 shooting. Utah led by as many as 30 points in the game and had six players reach double figures. And all that without their leading scorer (Mitchell) or Derrick Favors.
Utah is currently a freight train leveling anything in its path. And that train just got more fuel on Friday courtesy of Bojan Bogdanovic.
What happens when Utah's best shooter joins the 3-point surge? Mitchell may have said it best: "Uh oh."
Bogdanovic, who had hit just 27% from three over the last four games, scored 32 points on 7-of-11 shooting from behind the arc. He had 17 points in the third quarter alone as Utah (15-4) stayed atop the league's standings.
"We had a discussion this morning," Bogdnaovic said. "They all want me to shoot more, to be aggressive, but it sometimes is hard when you're struggling; when you don't see the ball getting through the net."
Bogdanovic shot just one 3-pointer in Utah's win over Dallas on Wednesday. To head coach Quin Snyder and the rest of the Jazz, that number was unacceptable. Yes, he has struggled this year at times, but he's coming off the best season of his career. And the only way to get back to that level is to keep shooting.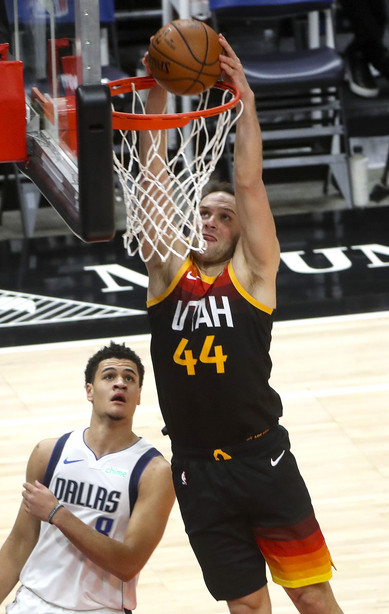 "The way that he plays and the way that we play are a great fit," Snyder said. "He hasn't played in so long. And he's just kind of playing his way back to where he's been, and that sometimes just takes time.
"The biggest thing that I want him to do is just to continue to attack, continue to shoot, continue to compete."
For Bogdanovic, Friday's game started the same way many others have this season: a couple missed shots. Snyder drew up some plays to get him involved, but he couldn't convert. As the Jazz ran out to a huge early lead, Bogdanovic had gone 1-for-3 from deep.
With Utah's love affair with the three ball, Snyder has made it clear that it doesn't matter how many threes have been missed, everyone needs to keep shooting. That's how Utah rolled off nine straight games with at least 15 made threes (one off the league record) and has hit 20 threes in a game seven times this season (more than they had in franchise history entering the year).
It's simple: If you are open, shoot the ball.
With the Mavericks trying to shut down the paint a bit more after Rudy Gobert dropped 29 points on them Wednesday (Gobert still had 17 points and 12 rebounds in Friday's win), that meant less pressure on the perimeter, and that meant Bogdanovic was open. In the third he didn't hesitate, connecting on all four of his 3-point attempts.
With each shot, the confidence seemed to grow. His decisions were quicker, his release faster — he looked like the Bogdanovic Jazz fans met last season.
"Tonight he was himself, and it makes us a lot better when he's aggressive like that," said Mike Conley, who had 22 points and nine assists.
After winning 11 straight games by an average of 15.6 points, some teams have to be thinking how much better can the Jazz actually get?
And all that winning has helped Bogdanovic cope with a slower-than-expected start.
"I would be really mad if I'm playing the way I'm playing right now and we are losing, but we are winning. The team is playing great," he said. "So no one cares about their own statistics and or percentage or whatever you guys are looking for. So it's great for me that we are winning even even though I'm struggling right now."
He didn't struggle on Friday. That could be "uh oh" for the rest of the league.
×
More stories you may be interested in